Nazomeren op Rügen - Pegasus
Cruise overview
Sailingarea
Oostzee | Ostsee | Baltic Sea
Embarkation
24-9-2018
20:00
Stralsund
Debarkation
30-9-2018
10:00
Stralsund
Costs
499,00
Capacity
15
Currently 5 available!
availability subject to change
Complete reservation
In de nazomer genieten van de schoonheid van het eiland Rügen en Hiddenzee.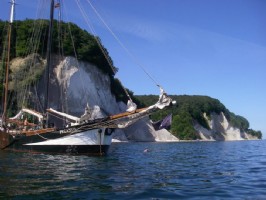 Tijdens dit tocht wordt, al naar gelang de weers- en windomstandigheden gezeild rondom Rügen en Hiddenzee. Rügen staat bekend om zijn prachtige krijtrotsen. Zeer indrukwekkend om hier langs te zeilen en eventueel voor anker te gaan.
Hiddenzee is een autovrij eiland van 19 kwadraat kilometer. Hier kunt u heerlijk fietsen of een rit met een paardenkoets maken.

Prijs per persoon
| | |
| --- | --- |
| Gedeelde hut | € 499,00 |
| Eenpersoons hut | € 748,50 |
| Kinderkortng | op aanvraag |
| Beddengoed | € 16,00 |
Bij de prijs inbegrepen:
6 overnachtingen aan boord in een (gedeelde) hut
Volpension
Eenvoudige maaltijd op maandagavond
Non-alcoholische drankjes (koffie, thee, frisdrank, sap en mineraalwater)
Havengeld en brandstofkosten
Niet bij de prijs inbegrepen:
Alcoholische drankjes (aan boord verkrijgbaar, worden na afloop van de tocht contant afgerekend)
Beddengoed en handdoeken
Persoonlijke uitgaven
Transfers naar en van de afvaart- en aankomsthaven
Reis- en annuleringsverzekering
Complete reservation